This post is also available in: Inglés
New York es sin duda una de nuestras ciudades favoritas y ir con Vera solo ha hecho que la amemos mas y la apreciemos mas, por eso quise escribirles este post de 5 Lugares para visitar en New York con niños. Si están en la ciudad con niños estos 5 sitios son un "must do"! Divertidos ecoónomicos y super centrales! Ideales para toda la familia.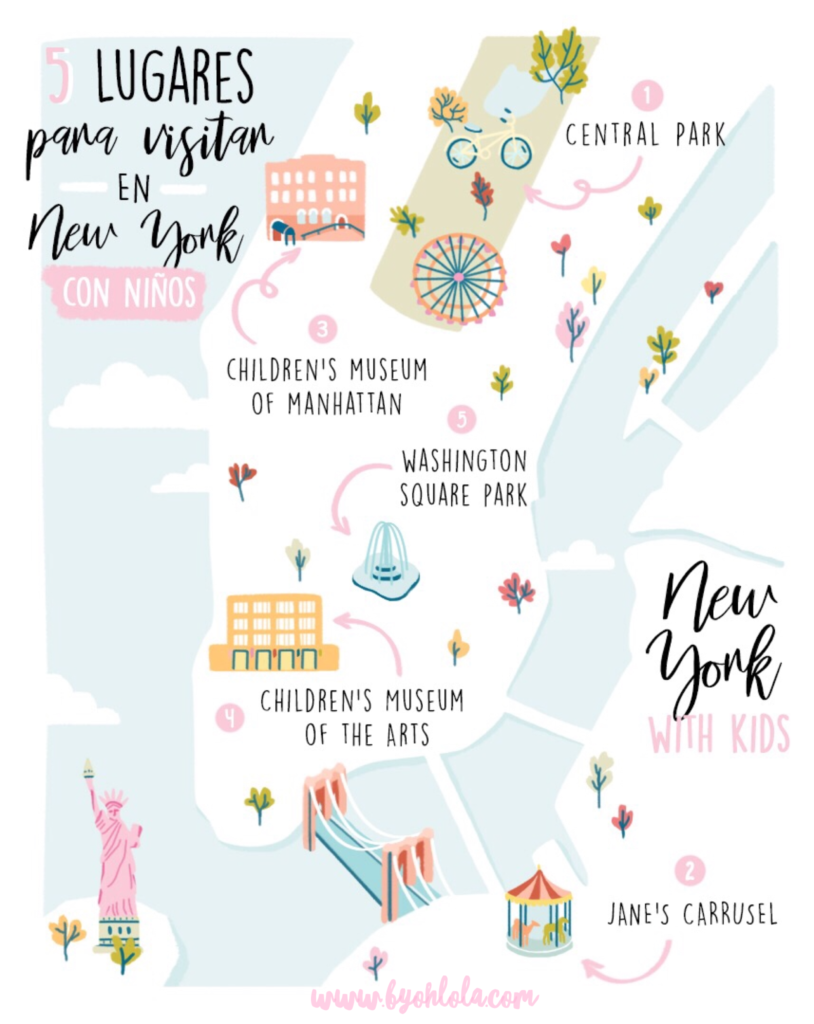 5 ACTIVIDADES EN NEW YORK CON NIÑOS!
Jane's carrusel: Queda en Brooklyn es nuestro favorito ever! Cuesta $2 dólares el ticket incluye un adulto! Puedes llegar ahí tomando el tren (metro) pero nosotros siempre caminamos el Brooklyn bridge y llegamos ahí la zona se llama Dumbo! Address: Old Dock St. Brooklyn, NY 11201.
Central Park: Tiene muchos sitios para niños, el zoológico, una feria tipo carnival en verano y en invierno la famosa pista de patinaje sobre hielo! Además hay playgrounds y  también ofrecen paseos en carroza!
Children Museum of Manhattan: Cuesta $14 dólares la entrada. Tiene exhibiciones de arte, química y development todas súper dinámicas y divertidas! Address: 212 W 83rd St, New York, NY 10024N-4901
The children's museum of arts: Es genial tienen drop in classes por $25 que incluyen a toda la familia! Address: 103 Charlton St, New York, NY 10014
Uno de nuestros lugares favoritos, es divino para caminar y disfrutar de las vistas, la fuente y la gente! Address: Nueva York, 10012
Espero que disfruten este post tanto como yo disfrute escribirlo, please escribanme en los comments si tienen sugerencias sobra mas sitios divertidos para visitar en New York con niños.
Stay fabulous and Kind,
Love, Lola