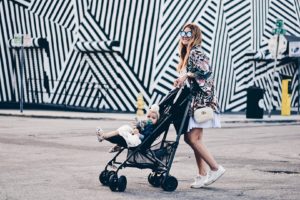 Hola I'm Lola, I am Venezuelan and recently moved to Miami from Washington, D.C. I am happily married to the love of my life and mom to a beautiful little princess named Vera Rose, who inspired me to create this space over a year ago to not only talk about fashion but also about how to stay fabulous, life after pregnancy, and continue to be creative, fresh, and dedicated to my dreams as an individual in my new life as a mother.
For me style is an artistic expression, it is the impression you decide to present to the world, and it often says more about us than we acknowledge. Dressing well usually makes us feel good, and I think there is a bit of magic there, in the process by which you choose different pieces of clothing to form a composition that makes you happy. In my world style goes beyond outfits and shoes, to me there is feeling and emotion. If what I feel about fashion and style rings a bell then we probably have a lot in common and this is the perfect place for us to share that.
Since I became a mom life has definitely change a lot and things that didn't used to be important or relevant all of the suden are a priority so here you'll find my go to's and my absolute mom haves, I also share my travels along my little fam, and all cutesy and arty things, I have this thing for pink and avocados!