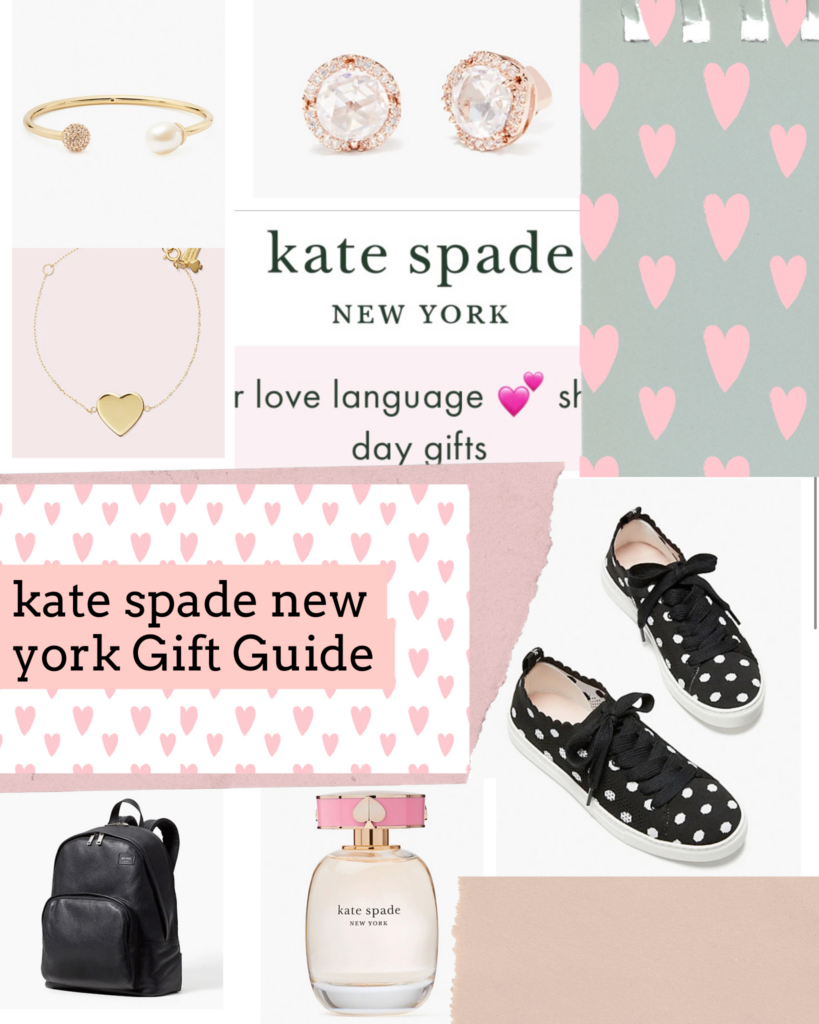 This post is sponsored by kate spade new york and ShopStyle.
Who else is psyched about Valentine's Day? This is a special day of the year because it lets us take a minute to give a little (or big) detail to a friend, parent, husband, wife, or even our kids! I try to make this a little extra special for those who are closest to me, because my Mom once told me, "the only thing in excess that doesn't do us damage, is love." And with that, I want to show you some fantastic gift options from kate spade new york for this Valentine's day.
One of the first places I look when I think of a gift for myself is my wrists – to me they are simply one of the best places to accessorize your outfit or look. With a pop of color, or several bracelets that compliment one another, you can complete an otherwise plain look with that little extra glam that so subtly stands out. That's why I love this Pearl Power Flex Cuff, which is delicate and gorgeous because of its simplicity. To me this style is very feminine and this particular bracelet is made of plated metal and can be worn more classically around the wrist, or can be worn at a slight angle adding a unique accent. Kate Spade is full of beautiful details in their jewelry section, with diverse and versatile pieces that can really help complete a look! Another option, if you need it, is this one with a heart pendant, which is made to be customized – a lovely touch for Valentine's Day!!
Now, if you're like me, you'll almost always check the shoe section out at any store (please tell me I'm not alone!…), and these Abbie Sneakers are SO kate spade new york I love them. The design is modern, cute, young, and (my favorite) has polka dots! They are simple and look light, and come in black and baby pink (wouldn't mind getting both of them in fact…). These would be a solid gift for a friend, mom, an aunt, or even your daughter!
Another awesome item for your galentine (the gifts at this link are for galentine's only!) or that special lady in your life is the Sparkle Pave Round Large Studs which are quaint, eye-catching, and beautiful! They come in multiple shades, and the back posts are tiny spades, giving that cute but iconic Kate Spade detail. I feel like these are just a classic piece in any girl's jewelry collection – they're bold, yet simple, and match pretty much any outfit! Another fun gift that's perfect if you're unsure of someone's taste is this eau de parfum – it's sensual, bright, and has hints of wild strawberry, rose essence, and freesia.
When it comes to getting something for Mr. P, I always try to go for something functional – something he'll actually use on a daily or weekly basis. From there, I try to get something that is great quality and will last, a standard that kate spade new york definitely easy meets! That's what made it so easy to find this Pebbled Leather Backpack – which will be perfect for Mr. P to put his work items, computer (it has a secure sleeve to hold it), chargers, etc. + travel in if he needs. This particular model comes in black or brown, which either color could match so many styles, and it also has plenty of space for weekend trips or if he needs to pack extra items for work.
Who's one of the hardest people to shop for in your circle? I highly recommend heading to kate spade new york since they always have lasting pieces and jewelry that can fit just about any style and help put a smile on your special someone's face this Valentine's Day. With Valentine's Day just around the corner, don't forget to order by 2/11 at 9PM EST to receive your gift(s) on time before Valentine's Day, with NEXT DAY shipping. I wish you a happy and sweet Valentine's Day – may it be memorable and full of love!
Stay Fabulous and Kind
Love, Lola