Summer is almost over (although the 1000-degree weather would make you think otherwise) but here we are, it's September already, and we're looking back on the last few months, like, what did I actually do? These months are always hazy because they are busier than winter (or it feels like that to me) because there are more trips, more activities, more places to go, etc. And with Vera, I tried my best to take her to do new things (ballet class) and to the pool about 32 times a week (kidding, but almost).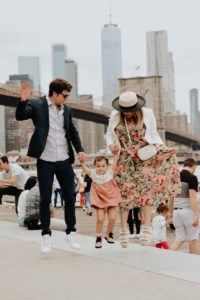 One of my favorite parts about this summer, though, was that I started to go to NYC more, finally. Since moving to DC, I had the idea that I would go much more than I did at first, although I did go for Fashion Week in September 2017. Other than that, though, it's been pretty off our radar.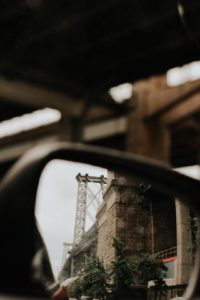 From mid-July to mid-August, though, we went a whopping 3 times (YAS) and this gave me a lot of different opportunities and impressions, because I traveled 3 separate ways: by bus, by plane, and by car. After all 3 trips, I wanted to share with you my experience traveling by car, because I think it's a HIGHLY overlooked option, and I wanted to tell you a little about the amazing option I had to drive out there.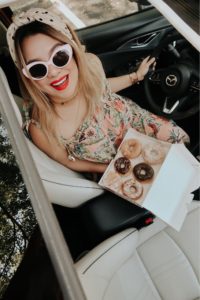 For our trip, I was lucky enough to have the opportunity to drive the gorgeous Mazda CX-3. I always thought driving a car to NYC would be a bit of a hassle – but this was undoubtedly my most convenient (and fun) trip to the city yet. Why, you ask? Well, for starters, you go on your time and make the stops you want (which is ideal for a family, especially radioactive Vera :D). None of the long wait time to board a plane, or the 2-hour buffer time you have to plan to be somewhere before you even have a chance to board; none of the uncomfortable space constraints of a bus; a car is FREEDOM. And the Mazda CX-3 was absolutely perfect for us, since it is compact but also has the perfect amount of space for a small family.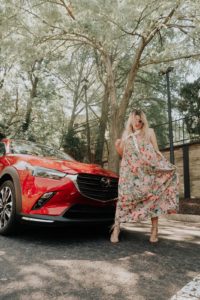 The car is a truly classy vehicle – it has all of the modern features you want for comfort during your road trips (or daily commute): the computer system offers XM radio, Pandora connection to your phone (or other Bluetooth connections), a GPS, and all of the controls are at-hand while driving, which I loved. It's also fuel efficient with advanced safety features – it lets you know every time a car is in your blind spot or if you are venturing to the left or right too far in your lane, without distracting you from your route. It even has a little screen in front of the driver that shows your velocity and a diagram of the car if you are changing lanes. Not to mention the white, leather interior seats are beautiful and make you feel like you're in a quality, luxury vehicle at all times.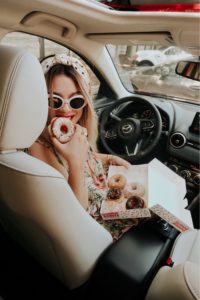 We really loved our most recent trip – it was so much easier to see parts of the city we hadn't before because we could just cruise around. Also, our car fit EVERYWHERE because of its amazing, compact size. You'd also be surprised at how easy you can find public parking (especially compared to DC) which convinced us even more to do this trip by car again and again.
What's your favorite way to travel? Let me know in the comments! I would love to see what you think!
Stay Fabulous and Kind
Love, Lola