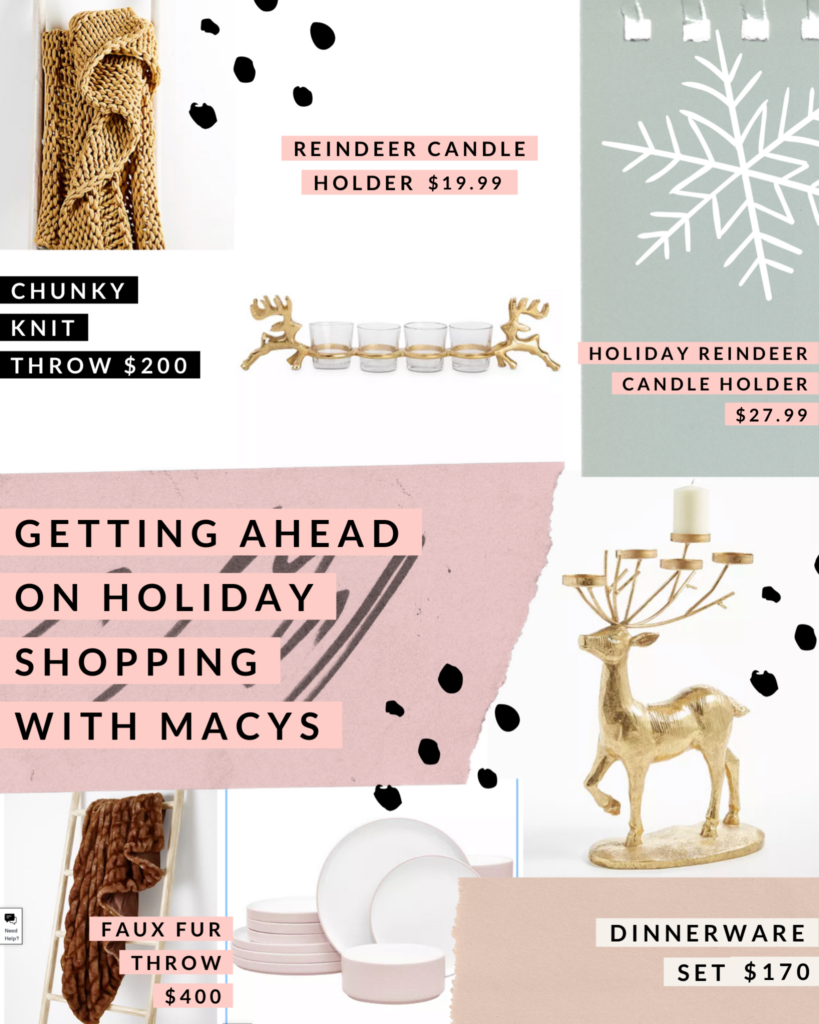 This post is sponsored by macy's and ShopStyle.
Hi loves – I have to start this post by saying I am already jumping up and down for the end of the year! There are SO many upcoming events, reunions, and celebrations that I am already getting ready to put my Santa hat on + bust out the eggnog! Not to mention that my wedding is coming up very soon on 11/14 – so very excited about that, too! One of the best habits I have this time of year is to always try to get ahead of holiday shopping – especially now that so many purchases take place online! That's why I want to really emphasize the significance of finding a store that can give you everything you need in one – which is definitely macy's!
There are so many kinds of gifts to get – for acquaintances, parents, friends, and more – but Macy's just has any and everything you want and need to get your holiday shopping done in no-time + find amazing gifts! One gift that works for just about anybody is a throw blanket – like this one whose color I adore! It has all of the cozy vibes + matches just about any décor / color scheme you may have in your house! Another option, if you prefer a brighter color, is this Chunky Knit Throw Blanket which is another fantastically comfortable material + offers all the same benefits as a gift over the holidays!
Another great gift is this reindeer candle holder which I think is perfect for friends or anyone who likes to decorate their home in style. It's elegant and adds a fun holiday dash to any space – which I just can't get enough of this time of year. I actually already showed this piece to my mother-in-law and she already ordered one! Another similar but different choice are these Reindeer Stand & Votive Candle Holders. I think this matches the Candle Holder extremely well and can spruce up a space to make it extra glam for the holidays.
Last, but not least, I found this absolutely outstanding Dinnerware Set – which comes in a beautiful blush pink! I am obsessed with finding the perfect dinnerware because it's one of those details you use every day and is an important aspect of home décor. I have noticed that for photos, or even for guests that come over for dinner, a beautiful dinnerware set can change the mood and start off the night with whatever energy they bring: bright, colorful, fun, outgoing – and that's why I love this blush pink!
These are just some of the outstanding finds on macy's.com, but I highly recommend looking for anything you need on their site this holiday season: from shoes, pajamas, athletic wear and everyday fashion and beauty – they've really got it all! Remember also that every week they have unique specials in different areas and for various products, so check back on a weekly basis to see how you can save during the holiday season!
Stay Fabulous and Kind
Love, Lola