This is a sponsored conversation written by me on behalf of Pantene. The opinions and text are all mine.
I've been meaning to write the "5 ways to make sure you have a good day" post for a while now, so here we go. I love bicycles – I think they're romantic and, according to writer Nikki Giovanni, they are just like love: they require trust and balance. I think I'm starting this post with the symbol of bicycles (which I love) because in motherhood, I think one of the important ingredients of everyday life is finding balance – the right schedule feng shui, if you will, or the proper amount of time for cleaning and relaxation, or even the seemingly simple balancing of time between taking care of Vera and still managing to progress in my work. Can I get a halleluiah? -giggles-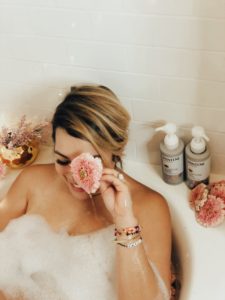 In all seriousness, though, my daily and weekly balance lies in following 5 simple rules or instructions that go a LONG way if I follow them every day. If this list looks like yours, let me know in the comments, or if it's totally different let me know what you do to find yours. I would love to hear all about it!
5 Ways to make sure you have a good day:
Plan your day – one of my favorite quotes is "make each day your masterpiece," and that starts by planning the day's goals and activities. This helps make everything run smoother, helps avoid stress and allows Vera also to get the most out of her day. This one seems simple but by writing out what you want to do for the day, you'd be surprised by how much more productive you are because you have a set list to follow!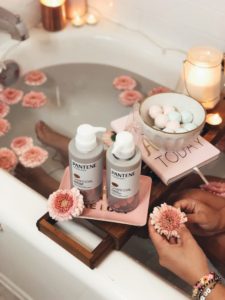 2. Clean for 30 minutes – this is a total game changer. If you clean for 30 minutes a day you'll realize 1) it goes by way faster than you think and 2) you'll never have those 1-2 hour rushed power cleaning sessions before guests come over (c'mon we've all had them!). I even do this with Vera now that she is old enough that she likes to help me (sometimes).
3. Have a positive quote for the day. Similar to the "make each day your masterpiece," sometimes powerful and meaningful quotes can help shape your attitude and motivate you. Who do you like to listen to or read or watch? I love reading what major fashion designers have to say or other artists that tend to be unique and powerfully mindful. But anybody can work, from artists to comedians to the people closest in your life.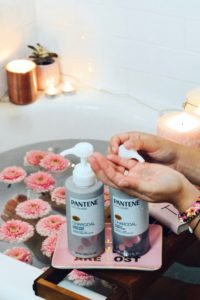 4. Have a great hair day – this might sound odd compared to the others – but the truth is how we look directly impacts how we feel. Unlike skin, hair doesn't have a built-in purification system – so we have to put in the work! For me that's always begun with using the right product with the rightingredients. That's why I wanted to share the new Pantene Charcoal Collection of shampoo and conditioner with you guys. This purifying hair care shampoo contains pro-vitamin B5 and activated charcoal, which attracts impurities and releases antioxidants to keep hair healthy and refreshed. It's free of silicone, parabens, and dyes, and it can even help oily scalps re-balance to the right state. The Pantene Charcoal Conditioner is perfect to hydrate hair but is also free of silicone, dyes and parabens – and I've seen a total difference in how long my hair stays fresh after washing. And I don't know about you, but for me, great hair days equal great days period. Bonus: The new Pantene Charcoal Collection will be available for purchase at Target in mid-July!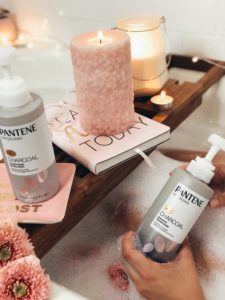 5. Go to bed early – don't keep working when you've finished your day's list of activities/things to do. Don't stay on the phone – just go to bed! Seriously, tomorrow you'll thank yourself – especially if you're an early bird!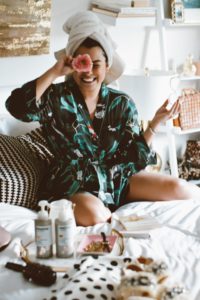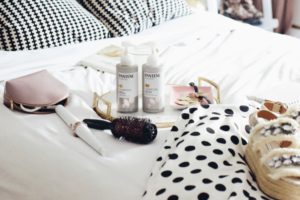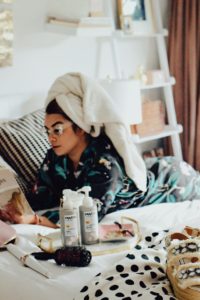 So these are my 5 go-to ways to make sure I have a good day. My last pro-tip is to count your blessings and go to bed with a grateful heart. We all have something to be grateful for, right? Thanks for reading this post (you can find more like this here). Please let me know what you think of my list and what you do to make each day your masterpiece – I'd love to read!
Stay Fabulous and Kind
This content is sponsored by Pantene. All thoughts and opinions are my own.