This post is sponsored by Pantene. All opinions are my own.
Who else constantly needs to stay on top of their hair care routine? I've been using Pantene products for almost 5 years now, and they never cease to exceed my expectations. Honestly, there are so many options out there but when you know what works, you have to stick with it! The latest products I fell in love with are from the Pantene Waterless Collection, especially the Pantene Cheat Day Dry Shampoo Foam – it's not your typical dry shampoo that leaves a rough / grizzly after-feeling – it's outstandingly soft and nourishing. I wanted to tell you a little about how to use it and my experience so you can also give it a try to help you extend your hair styles on non-wash days!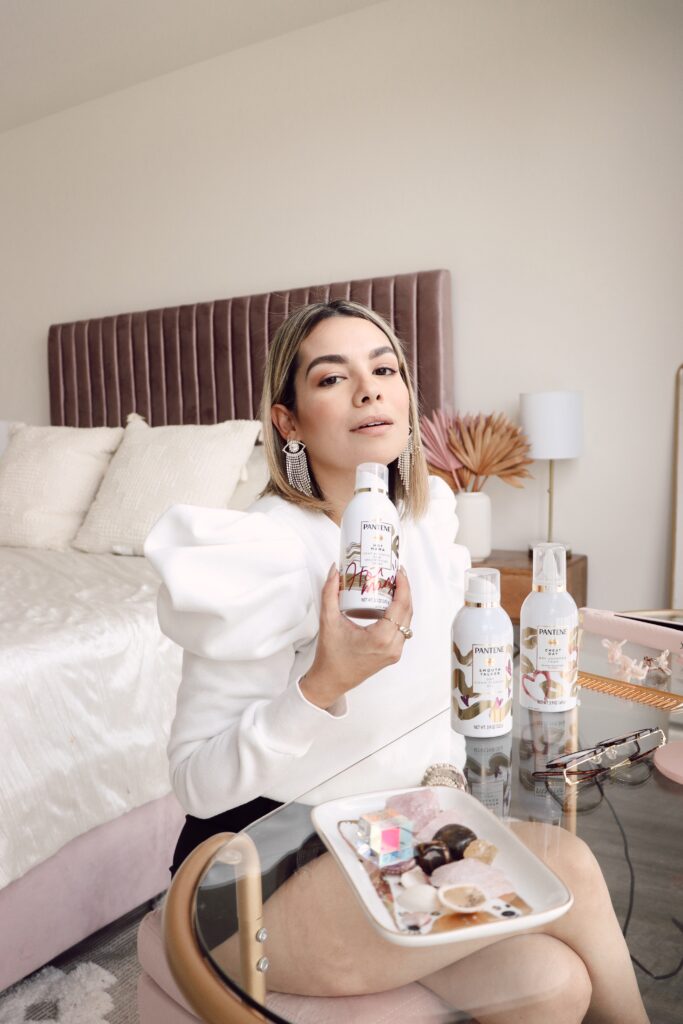 Not all of us can wash our hair every day and get away with it – our scalps sometimes need a break, but we also have to try to give ourselves that fresh-shower look even on the days we skip a full-fledged wash. What I love about the Pantene Cheat Day Dry Shampoo Foam and Smooth Talker Dry Conditioning Oil combined is that they make a huge difference to alleviate tangled, messy hair and also make it easier on frizz-prone days when it's really humid (a huge deal in Miami where I live!). This shampoo is extremely unique in how quick it removes dirt and does not leave any residue behind after applying. I've actually applied the shampoo on one side to then see the difference on the other and you can visibly see how well the oils were absorbed and how fresh the hair looks vs. the other side. The ingredients also contain Pro-Vitamin B5 and are sulfate- and paraben-free – a truly important detail to me as a mom as I am always looking to use clean products.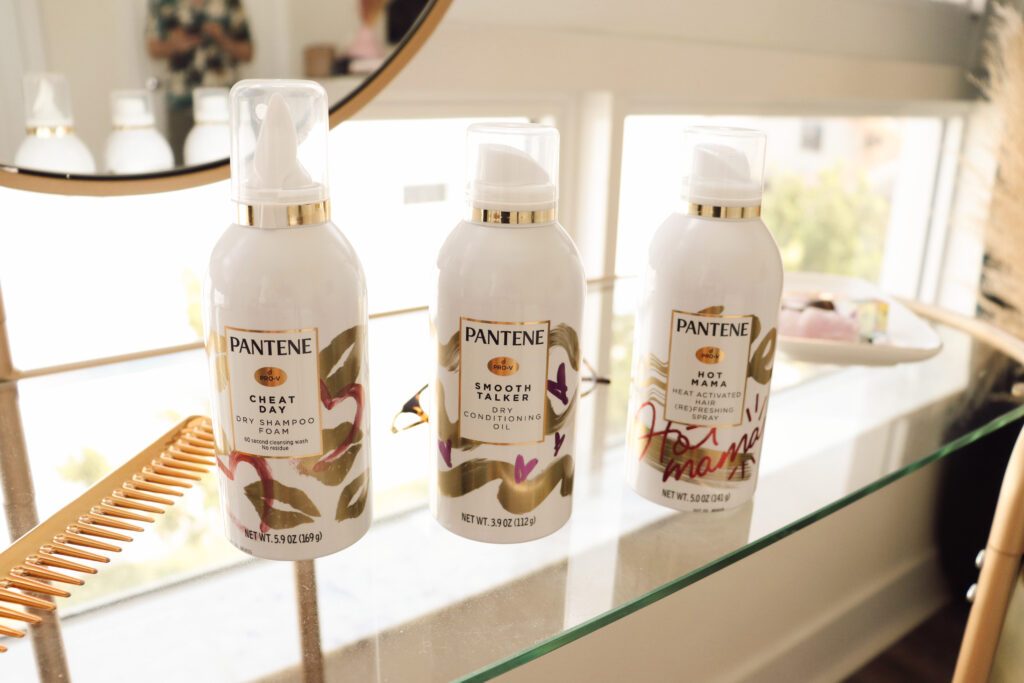 How to Use
Both products are extremely easy to use.
For the Cheat Day Dry Shampoo Foam, you simply:
Dispense a small amount on your fingertips (not directly on the roots) and,
Begin sectioning your hair to apply a small amount to each section of your hair. For optimal coverage, apply to dry hair at the roots and rub it in, and repeat for each section!
Use your other hand to gently knead your fingers through your hair and lightly massage in the shampoo.
I found that my hair also absorbed more of the shampoo and eliminated oils, creating a more vibrant, bright look as I brushed and styled it. If your hair feels slightly damp after immediately applying, that's normal and you simply have to allow the foam some time to completely sink in.
For the Smooth Talker Dry conditioning Oil, you:
Simply shake the can well before starting, and then
Hold the can 6-8 inches from dry hair and spray from mid-lengths to the ends, avoiding the roots!
I took time to also carefully massage in the conditioner with my fingertips, which I think helped to make it perform well.
Afterwards, brush out and style your hair as you prefer!
Lastly, I like to use the Pantene Hot Mama Heat Activated Hair (Re)Freshing Spray once a week or so, to provide a little extra protection between washes to my crown! It helps when your hair needs a touch-up and acts as a heat-activated spray to really coat your hair in a silk! I iron my hair literally almost every day, so applying this product really gives my hair a re-vamp that it needs after so much exposure to extreme heat!
To apply the Hot Mama Heat Activated Hair (Re)Freshing Spray, simply:
Shake the can well before styling with heat
Hold the can 6-8 inches away from hair and spray evenly
Style per your usual routine!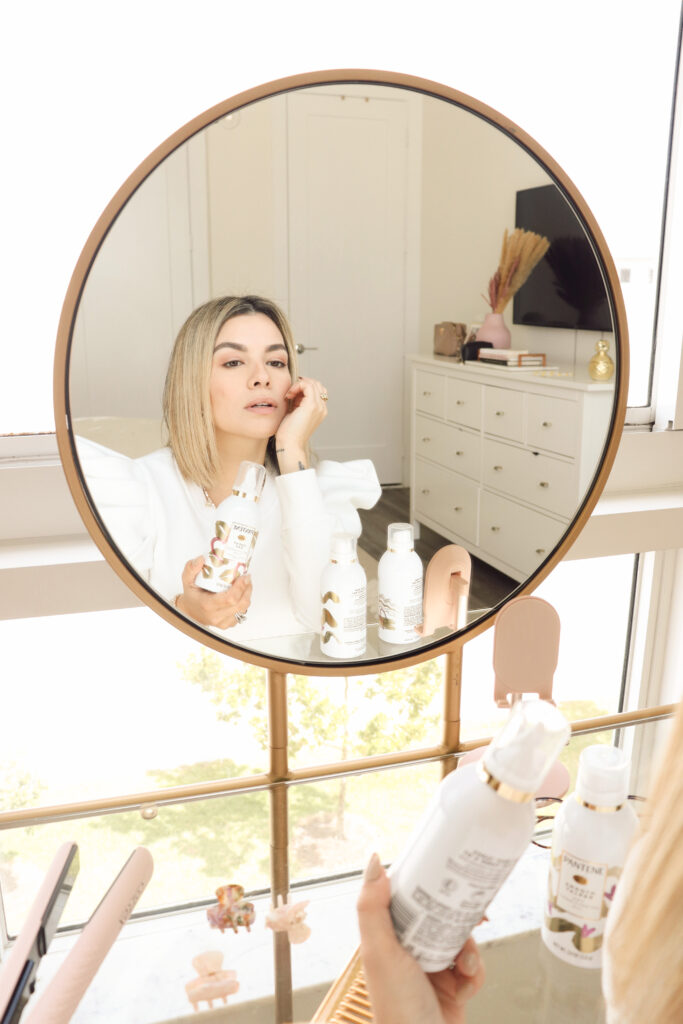 At this point, your hair will feel refreshed and smooth and look like you're ready for the day! The brushing can be done smoothly with long strokes so as to even out the application and allow your hair to absorb the vitamins it's receiving!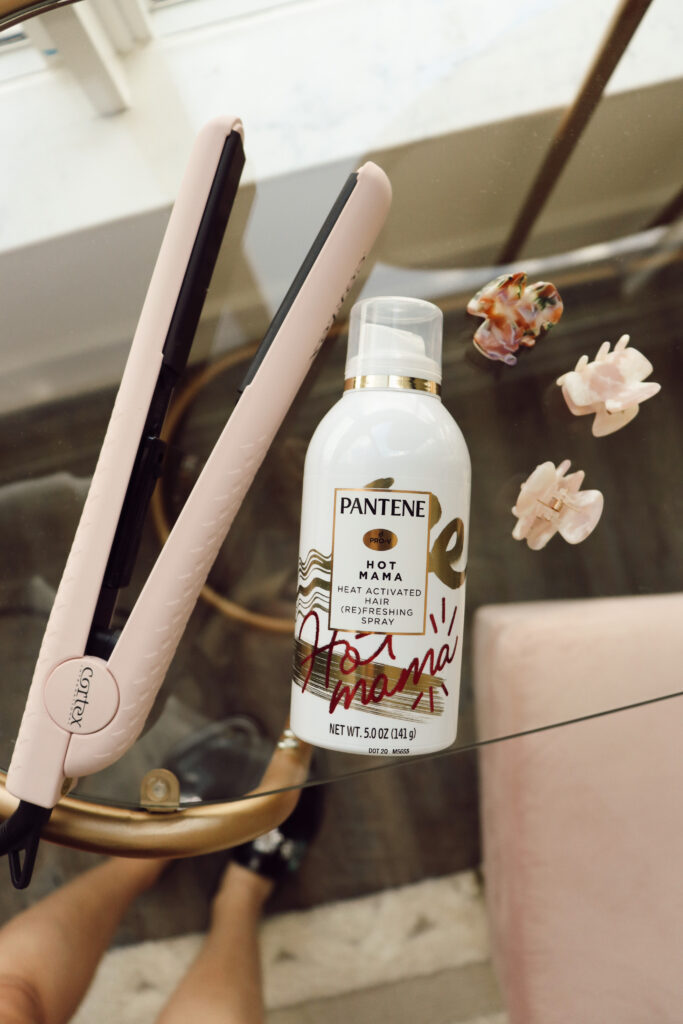 As you can see, they are extremely easy to use, and they really save you time on your daily routine! It's just one of those details that makes the day to day easier when you are running around and need a refresh and not a re-wet! Another huge plus is after applying, you can completely feel the difference in terms of volume – your hair literally feels thankful for the application and shines brighter. What more could you ask for!?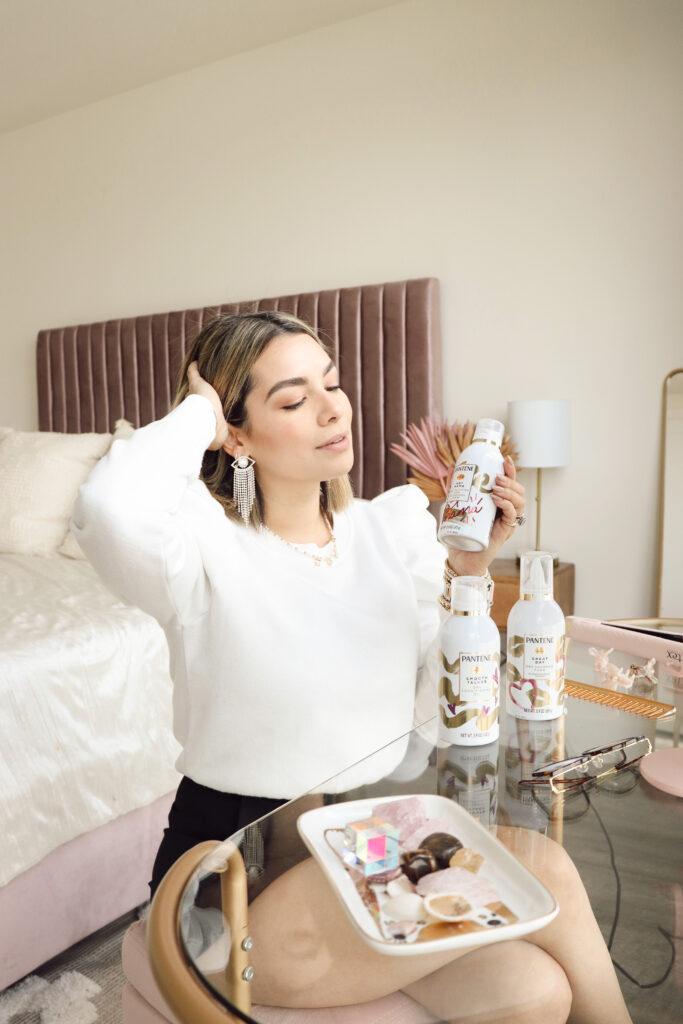 Be sure to check out the Pantene Waterless Collection here to learn more and find out where you can shop the collection online and in store. Have you used dry shampoo before? I highly recommend giving this one a try and please let me know any questions you have in the comments and I'll reply!
Stay Fabulous and Kind
Love, Lola