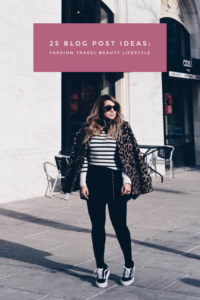 It happens to all of us that some days we're more inspired than others – sometimes we wake up with the best ideas and easily motivated to work on a particular project, but other days aren't so great. For those days in particular, when it seems impossible to come up with any fresh ideas, I made this list of 25 Blog Post Ideas. This is my personal list and I decided to share it to launch a series on the blog in which I'll talk about my experience as a blogger, share some professional tips, and I'll talk about things that have worked for me, editing, organization/scheduling work on the blog, photography, and anything else you might be interested in. So if you have any ideas o questions, let me know in the comments or head over to my instagram (HERE) and shoot me a DM!
For now, here is a list you can use to inspire yourself a little on those days when creativity seems to take a little break.
Blog Post Ideas
Fashion / Make up haul
Seasonal Trends
Tips to pack a carry on
Make up wishlist (or shoes, bags, or general)
Share a favorite recipe
Book Review
What is in your bag
February is coming so don't forget to do a gift guide for him or her or wishlist.
Share your favorite podcast with your readers
Home tour
Everyday makeup essentials
Things you don't mind splurging on
Skin care routine
Product Review
Productivity tips
Tutorial/ DIY
Everyday easy makeup routine
Share your morning routine
Talk about some of your favorite healthy snacks
Feature some of your favorite drugstore makeup
Do a series of monthly favorites
Share 3 tips to relax after a long day
10 ways to style a black dress (white dress, jean jacket, leather skirt)
Review a local cafe or restaurant in your city
10 Things people probably don't know about you
I hope this post helps you on those dry creative days, and also to create amazing content!
Kisses!
Stay Fabulous and Kind
Love, Lola
Nos pasa a todos, algunos días estamos más inspirados que otros – de repente amanecemos con las mejores ideas y super motivados a trabajar en nuestro proyecto, pero otros días no son tan magníficos. Para esos días, cuando parece que no hay ideas, les creé una lista de 25 Blog Post Ideas. Esta es mi lista personal y decidí compartirla para el launch de esta serie en el blog donde voy a hablar de mi experiencia como blogger: les daré mis tips, les hablaré de las cosas que me han funcionado, de edición, organización, fotografía y todas las cosas que quieran. Así que si tienen ideas o preguntas déjenmelas en los comentarios!
Por ahora aquí está esta lista que pueden usar para inspirarse un poco en esos días donde la creatividad está tomando un descanso. 
Fashion / Make up haul
Tendencias de la temporada
Tips para empacar un carry-on
Un wish list de maquillaje (o zapatos, carteras o una más general de varias cosas)
Comparte una receta favorita
Haz un review de un libro 
Escribir sobre qué está en tu cartera 
Ya viene febrero así que no olviden hacer un guía de regalos para él o para ella
Comparte tu podcast favorito con tu audiencia
Un tour de tu casa
Básicos diarios de maquillaje 
Una lista de productos caros que valen la pena
Rutina de cuidado de piel
Review de un producto 
Tips para la productividad
Tutorial / DIY
Rutina fácil de maquillaje 
Comparte tu rutina de la mañana
Habla de algunos de tus snacks favoritos y saludables
Haz un feature de tu maquillaje favorito de la farmacia
Haz una post de tus productos favoritos del mes
Comparte 3 tips para relajarse después de un día largo
10 maneras de estilizar un vestido negro (o una chaqueta de blue jean, un vestido blanco, una falda de cuero)
Haz un review de un café o restaurante local de tu ciudad
10 cosas que tu audiencia probablemente no sabe de ti
Ojalá les sirva mucho este post y les ayude un poco a crear amazing content! 
Besos!
Stay Fabulous and Kind
Love, Lola